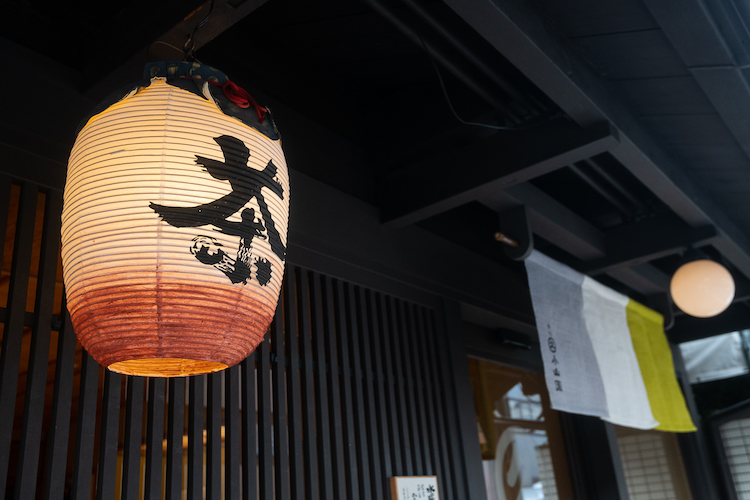 With koicha (strong, thick matcha), store-limited usucha (light thin, matcha), as well a matcha sweets, Marukyu Koyamaen meets the expectations of those who visit Kyoto for the enjoyment of Chanoyu.
This store is directly managed by Marukyu Koyamaen, a long-established Uji tea producer founded during the Genroku era (1688-1704). Located at Nishinotouin Street in the center of Kyoto city, the store is full of attractive displays of matcha, various teas, and sweets whilst emphasizing the elegance and charms of the Meiji merchant house. There is even a teahouse in the back of the store. It is a special experience to taste delicious, quality tea from Marukyu Koyamaen in a clam ambience in front of the mossy garden or by the tokonoma (alcove where art or flowers are displayed). People who enjoy Chanoyu will also be delighted. The store limited edition matcha, the "Miyabi no In" matcha, is available only here, which enhance the enjoyment of the visit. In addition, not only usucha is available in the store but also koicha.
Even though Marukyu Koyamaen has long been making sweets with matcha, those offered in the teahouse are carefully selected and are the results of perfectionistic efforts. The two most popular items, the Matcha Baumkuchen made from dough mixed with high-quality matcha and also the Matcha Roll Cake filled with impressively rich matcha cream, can be served with tea as a set menu.
Set in a corner of the teahouse is a two-tatami mat tearoom, Motoan, where guests can also enjoy tea. Workshop of matcha making and Chanoyu manners, as well as sencha brewing are also held upon reservation at table seat. Special attention is paid to create a space for guests to have a deeper appreciation for tea and tea ceremony, even they are not familiar with tea.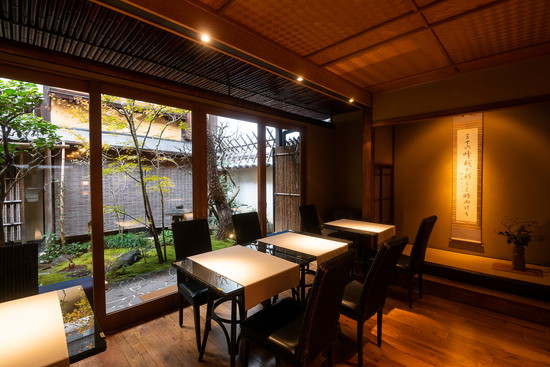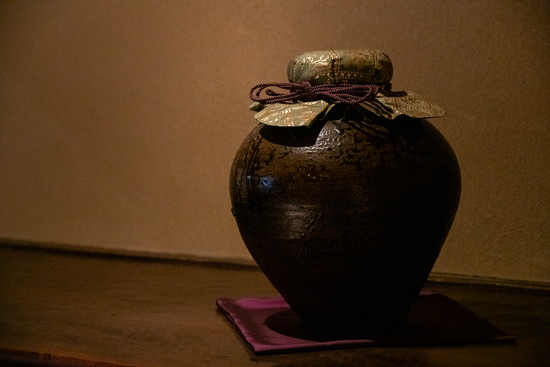 While preserving the elegance of the former dry-goods store, attention is paid on particular details all over the store to create an enjoyable and relaxing tea time to guests: tables are placed with ample space in between them which 10 seats only available, and the tokonoma was left in its original form when the building was renovated into the teahouse.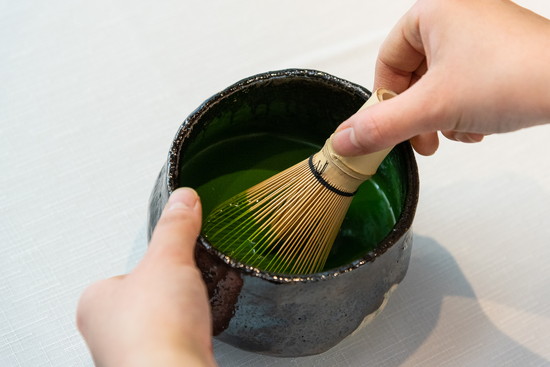 Whisking each bowl of matcha carefully, every bowl of matcha contains the hospitality of the staff who prepared it. Not only can guests enjoy usucha here, but koicha is also an option.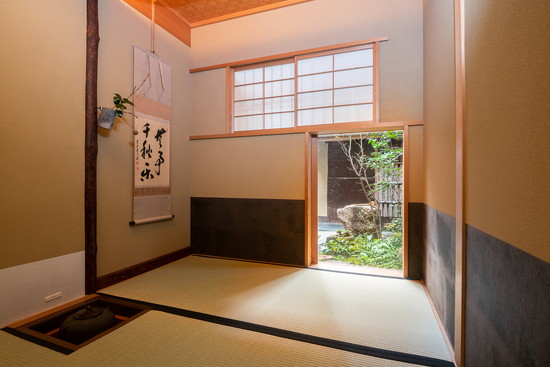 The tearoom Motoan is a lavish space specially designed in the teahouse. Guests can have tea here and enjoy the ambience of a tearoom.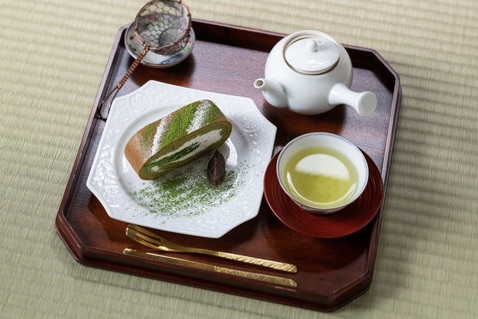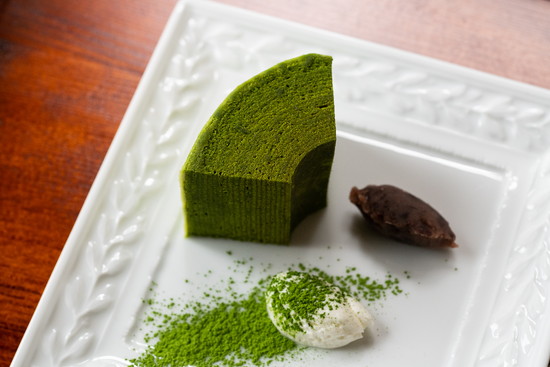 (Top picture) Matcha Roll Cake and (Bottom picture) Matcha Baumkuchen can be served with matcha, sencha, hojicha (roasted green tea), or genmaicha (green tea with roasted rice) as a set at 1,300 yen.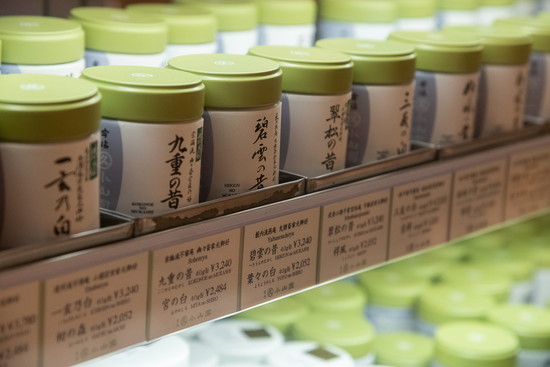 The store carries a variety of matcha and is located in the city center, offering a convenient shopping experience.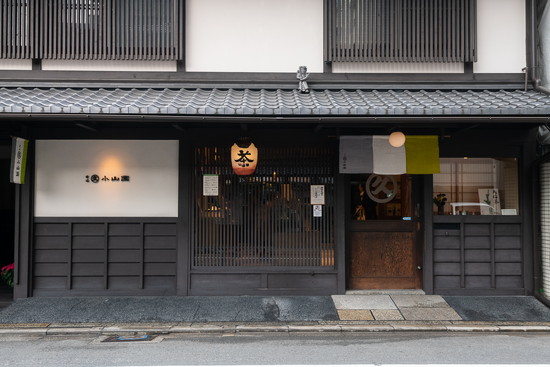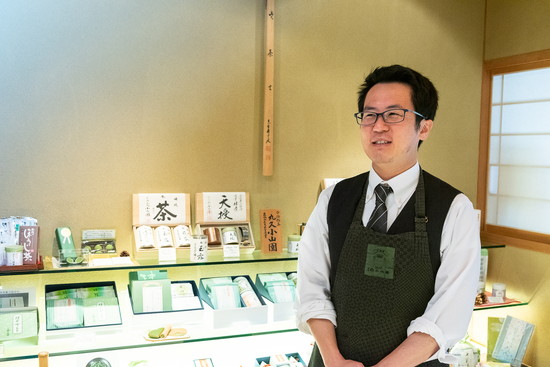 The store manager, Mr. Kazumasa Watababe, says he wants to help "not only the masters of chanoyu or those who are already familiar with it, but also promoting the pleasure brought from tea and chanoyu to people who are not familiar with matcha".
---
●Workshop for making Matcha (English available, 4 days advanced reservation required.)
Time/Place: 10 a.m. – 11 a.m. at the table seat in the shop (only on Monday, Tuesday, Thursday, and Friday)
Fee: 1,500 JPY / person (seasonal sweets included)
Capacity: Min. 2 to Max. 4 people
To make a reservation or an inquiry, please contact us at email: englishinfo@marukyu-koyamean.co.jp
---
Marukyu Koyamaen Nishinotoin Tea Shop and MOTOAN Tea House
https://www.marukyu-koyamaen.co.jp/motoan.html
Locations
West side of Nishinotoin, South of Oike, Nakagyo-ku, KYOTO
TEL
+81-75-223-0909
Opening hours
Shop 9:30 a.m.-6:00 p.m.
Tea House 10:30 a.m.-5:00 p.m.(Last Order)
CLOSED
Every Wednesday (except for public holidays)
January 1st – 3rd
Access
Take subway Karasuma / Tozai Line to Karasuma Oike (K08, T13). Take exit no.4-1. Go Straight (west) on Oike St. 500m. Turn left on Nishinotoin St. Go 50m, it is located on the right.
From subway Station Nijo-jo Mae (T14), take exit no.2. Go east on Oike St. 500m. Turn right on Nishinotoin St. Go 50m, it is located on the right.
From Nijo-jo Castle and Bus stations at Horikawa-Oike (#9, 12, 15, 50, 101) Head to Oike St. and go east about 500m. Turn right on Nishinotoin St. Go 50m, it is located on the right.