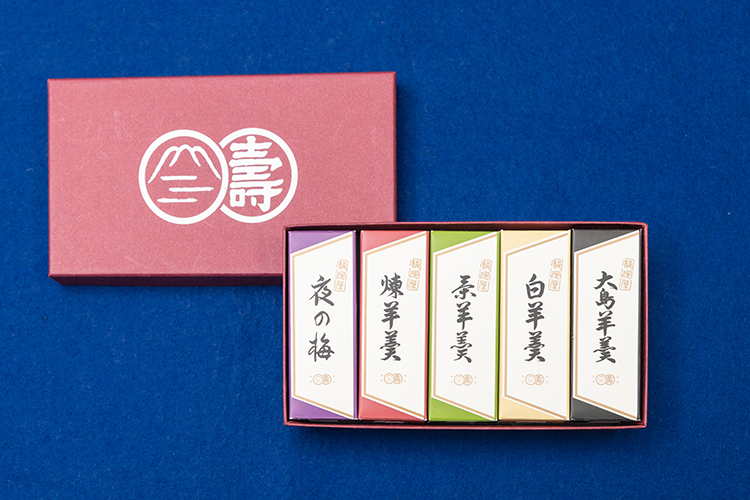 With a history of making Japanese confectionary, the long-established branch store is a part of the Surugaya group. Located right in front of Kyoto Station, the store has popular items for gifts and souvenirs.
The store was established in front of Kyoto station in 1886 (Meiji 19), when JR Kyoto station was still called Shichijo station, as a branch family to the Surugaya store founded in the Muromachi period. Since then, in the original location, it has come to be known as Kyoto ekimae Surugaya (Kyo Surugaya in front of Kyoto station). In the modern framework, not only is the store close to major transportation stations for the JR, the subway, and the Kintetsu, but also it conveniently faces Karasuma Street and the Karasuma underpass. It has earned an extensive fan base with the variety of items from daily snacks to souvenirs and gifts that it offers. Some examples include traditionally inherited yōkan, omogashi (fresh sweets usually paired with koicha) that connects the season to the heart, and casual Kyoto-style sweets.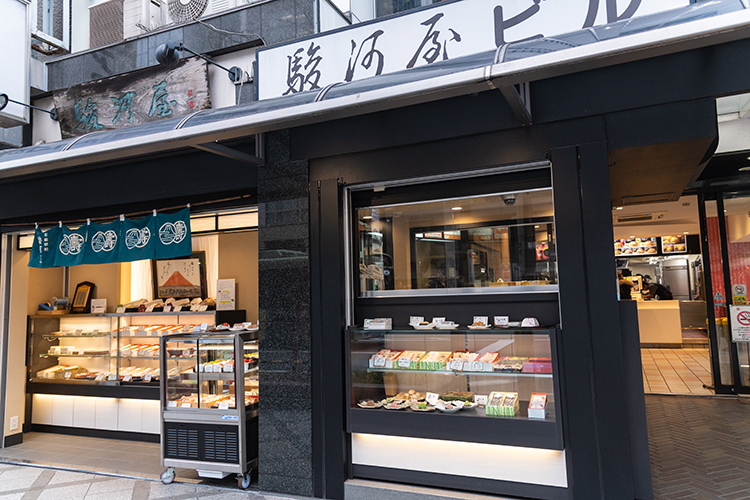 The store on the first floor of the Surugaya building faces Karasuma Street. Looking to its south is the front of Kyoto station and to its north is Yodobashi Camera. The store is located where there is a constant stream of people as it is close to Kyoto Tower and the recently opened Kyoto Station driver's license renewal center; yet, the Surugaya signboard that has become part of the landscape gives off a strong presence. Despite its compact size, the various Japanese sweets displayed at the front of the store attract many people to the store.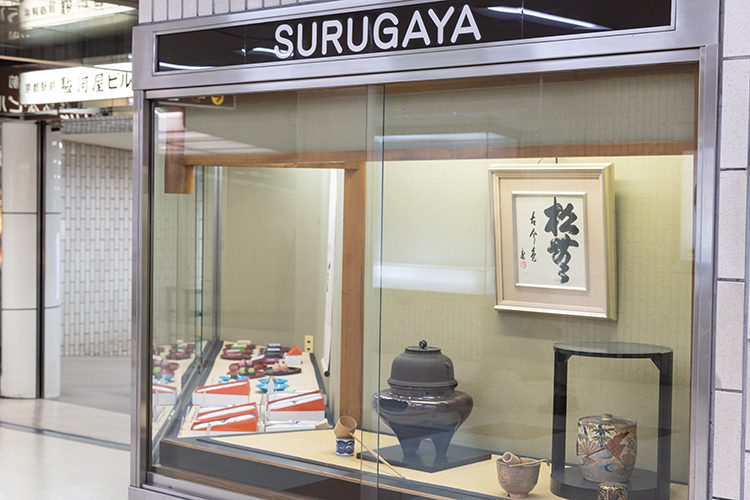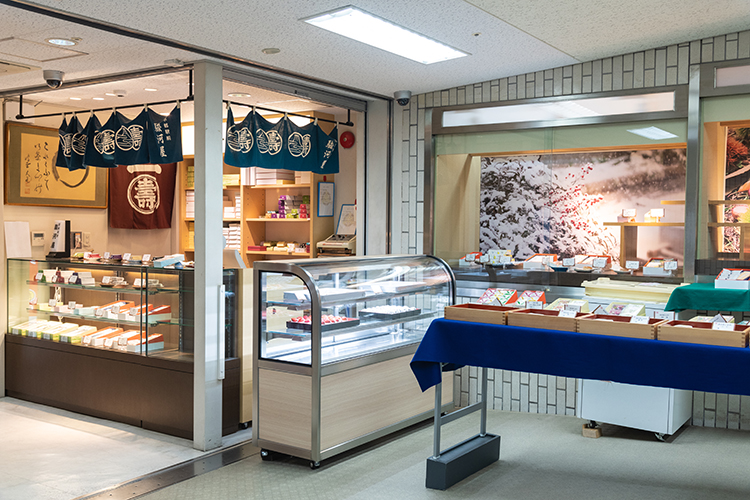 The store on the second floor of the basement faces a public underpass that is directly connected to the subway Kyoto Station. Along with a tea ceremony installation, the beautiful confectionery displayed though a window and the diverse product corner attract the eyes of passersby. The new product "Anpan" is a popular item that was created by applying the skills unique to a Japanese confectionery store.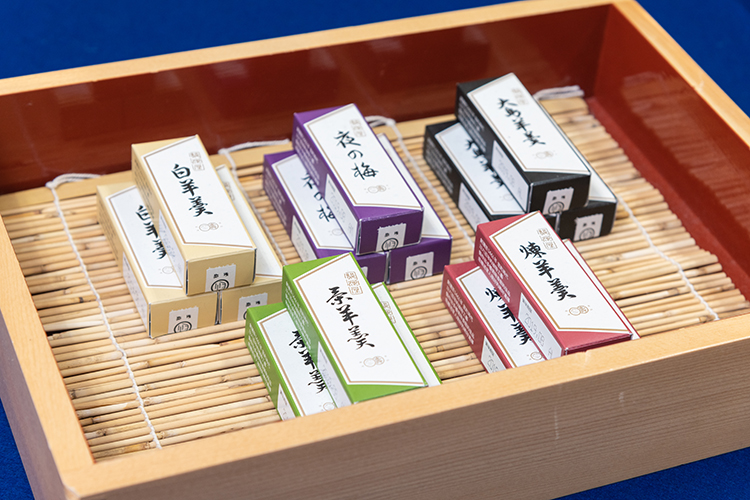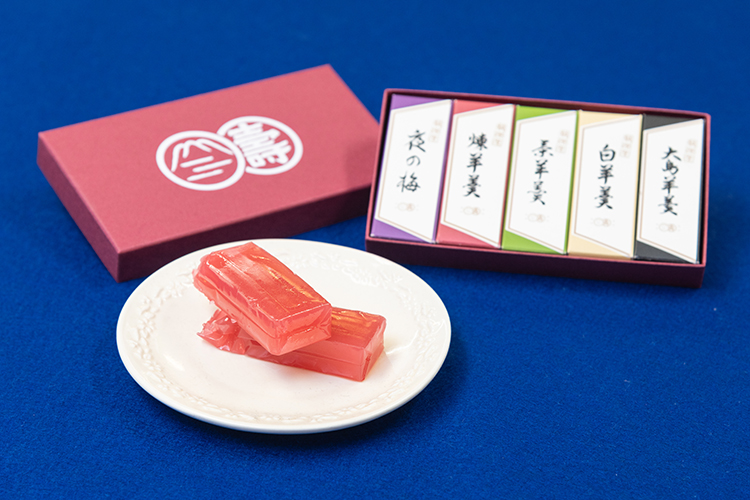 Hitokuchi Yōkan (One-bite yōkan) is of palm size making it easy to eat. There are five flavors available each for 250 yen (tax included): Shiro, Yoru no ume, Oshima, Cha, and Neri. There is also an assortment option to enjoy all five flavors for 1,350 yen (tax included).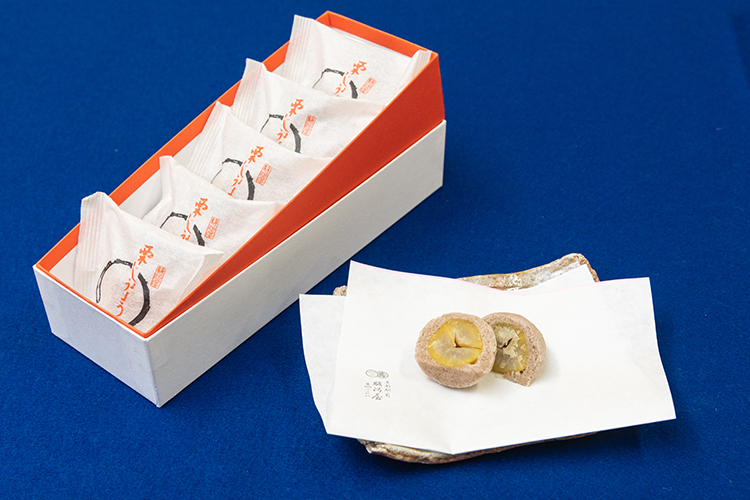 Kuri Jouyo is an elegant and flavorful item each for 300 yen (tax included). It can also be boxed. (A fee will be charged for the box when buying over ten pieces.)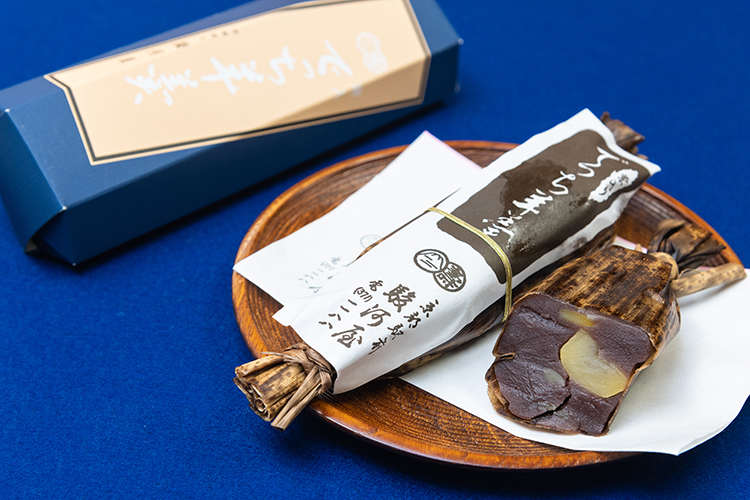 Decchi Yōkan (with chestnuts) contains a slight sweet scent from the bamboo skin wrapping and tastes slightly sweet with a rich chestnut flavor. Individual pieces are 850 yen (tax included).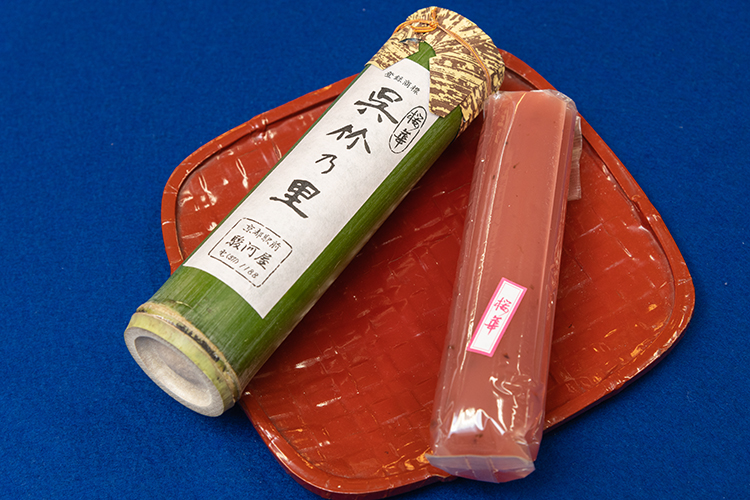 Emerging from the bamboo tube is a gorgeous yōkan with cherry blossoms kneaded into the jelly. Kuretake no Sato is 900 yen each (tax included).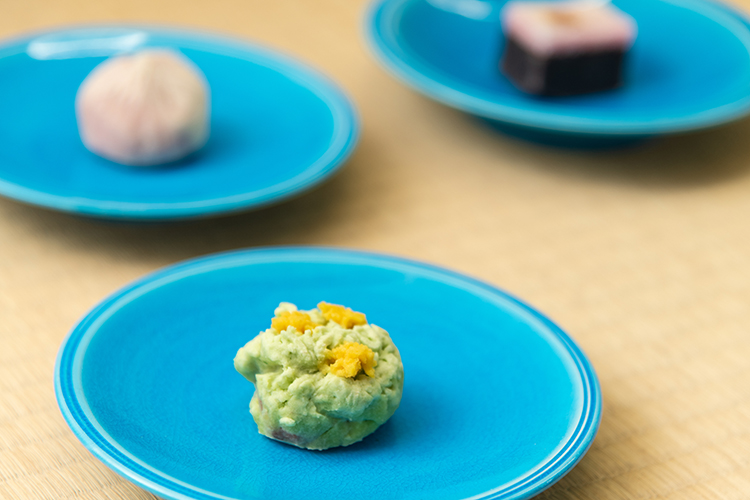 Omogashi (fresh sweets usually paired with koicha) with seasonal designs can be customized upon customers' requests (reservation required).
Kyoto ekimae Kyo Surugaya
住所

720 Higashishiokojicho Shimogyo-ku,Kyoto-shi, Kyoto-fu 600-8216Japan

TEL
+81-75-371-1188
FAX
+81-5-371-7213
Open hours
10:00a.m.

~

7:00p.m. 

(Closed Wednesdays)