West of the Kyoto Imperial Palace is where Kyoto culture and convenience are in harmony. Kyoto Brighton Hotel provides its guests with a fulfilling experience of outstanding hospitality and service.
Since its opening, Kyoto Brighton Hotel has been engraved with over thirty years of history. Close to the center of Kyoto city, the hotel is located in a quaint residential area surrounded by historical landmarks including Urasenke Konnichian (a historical estate representing the Urasenke tea family), shrines, temples, as well as historical universities. It is close to famous places related to tea ceremony and other major sightseeing spots, and guests can feel a sense of familiarity and comfort as if residing in the hotel even if it was just for a short stay. The hotel provides a quiet environment with warm hospitality to each and every one of its guests in its 182 guestrooms. In providing food that is always carefully prepared and service with attention to detail, the five restaurants as well as the lounge bar are directly operated by the hotel. In addition to having a concierge who can consult with guests on travel plans prior to guests' arrival, a major feature to the hotel is that it provides various itineraries for a special "Kyoto-like time". The hotel has continued to receive high praises from different platforms for a long time because of its sincere attitude in persisting the pursuit of its distinctive services. It is a hotel that will closely help its guests to create irreplaceable memories of Kyoto.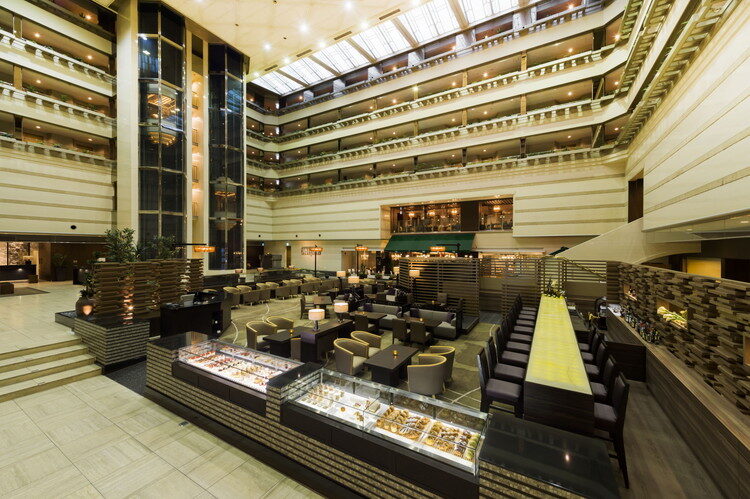 Coming from afar, the atrium lobby is a spacious well that continues up to the sixth floor. It is a comfortable space that is reminiscent of the murmuring of Takase River. Guests can enjoy the changing atmospheres at different times of the day and different seasons of the year as the gentle natural light streams from the ceiling that imitates shoji (translucent Japanese paper sliding doors). The corridors facing the lobby, the see-through elevator in front of the front desk, and the open space to the guest rooms all make it safe for women traveling alone.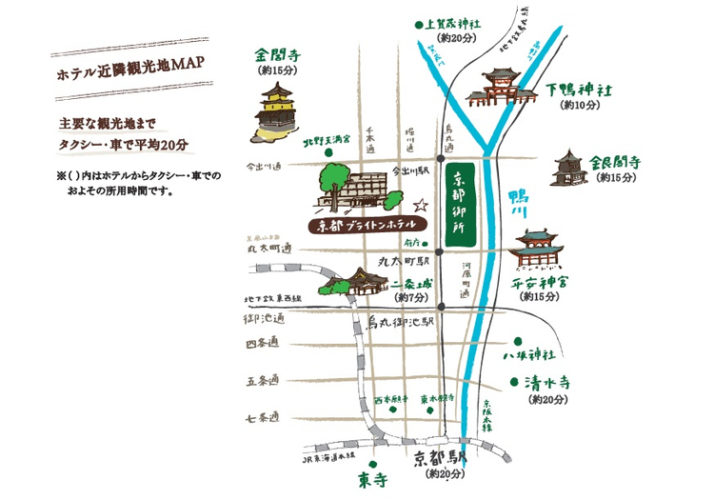 The hotel is about five minutes walk to the Kyoto Imperial Palace and within walking distance to Kamo River. Additionally, there are many famous shrines and temples along with long-established shops for Japanese confectionery and Kyoto cuisine nearby. It is a location suitable for enjoying Kyoto without having to rush.

The hotel has a privately-reserved itinerary exclusively for its hotel guests. It is prepared for those who want to avoid crowds. Even during Kyoto's prime tourist season, guests can enjoy a privately reserved space, for a refreshing morning activity for example, without any tourist.
The hotel also holds cultural events to allow its guests to experience the wisdom and culture of Kyoto, It is a luxurious Kyoto experience that is only offered here.
Click here for event details→
https://kyoto.brightonhotels.co.jp/activity/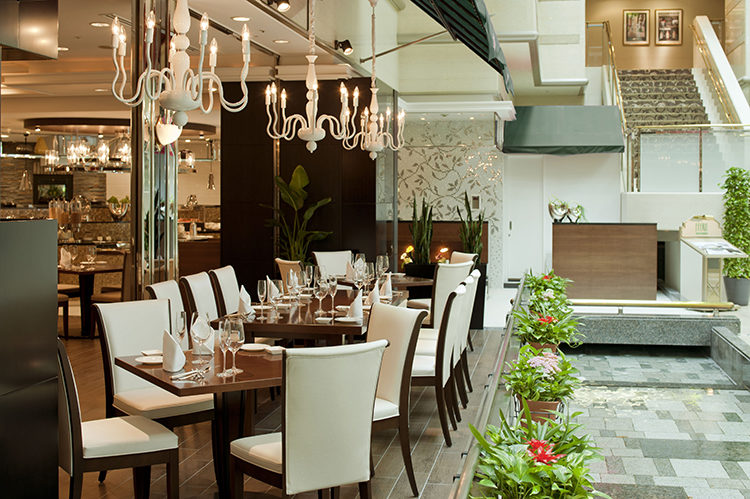 There are the five restaurants that satisfy the high standards of Kyoto people. As the hotel directly manages all restaurants, important guests information, such as allergies and preferences, are shared with the front desk. Therefore, guests will receive high quality service regardless of the restaurant they choose.
Click here for more details-→
https://kyoto.brightonhotels.co.jp/restaurant/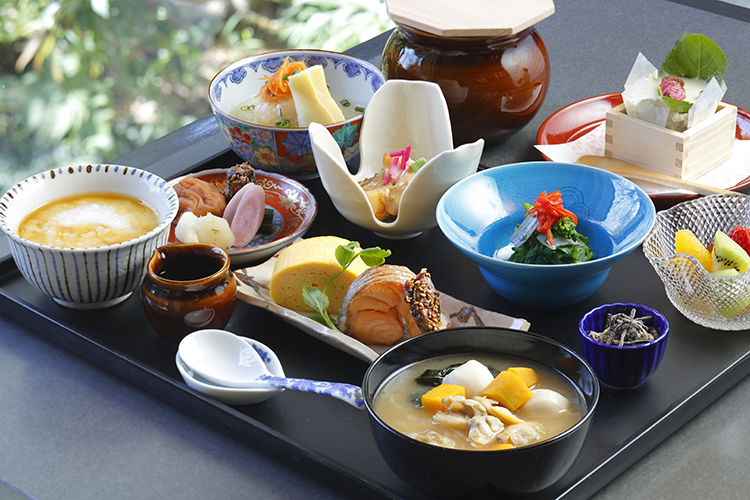 The breakfast porridge from its traditional Japanese cuisine restaurant, Hotaru, once won the first place in western Japan region for the "Elegant breakfasts that can be enjoyed at hotels" ranking by The Nikkei. Their special breakfast is also popular, in which guests can enjoy specially selected high-quality ingredients that are unique to Kyoto. (Reservation required)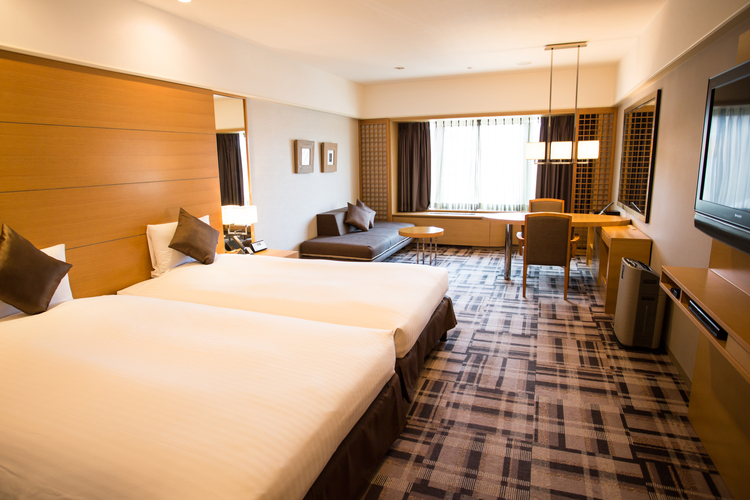 These are the elegant rooms of the hotel. Guests can spend a calm "Kyoto-like time" in the spacious dining room, bed, and bathroom. There is also enough space to easily wear kimono.
Click here for a list of guestrooms→
https://kyoto.brightonhotels.co.jp/stay/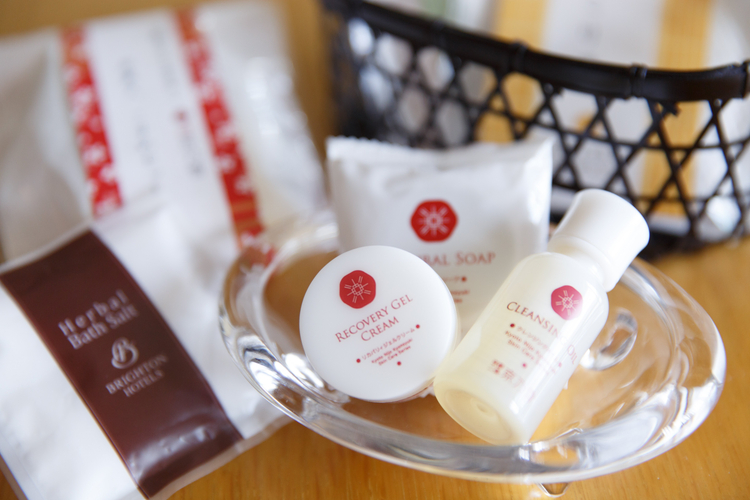 Chosen by the hotel staff, in-room amenities are from a natural cosmetic brand from Kyoto, Kyonoyuki. Not only does it have cute packaging, it is also comfortable to use on the skin.
(Only available in room En and other luxury type guestrooms.)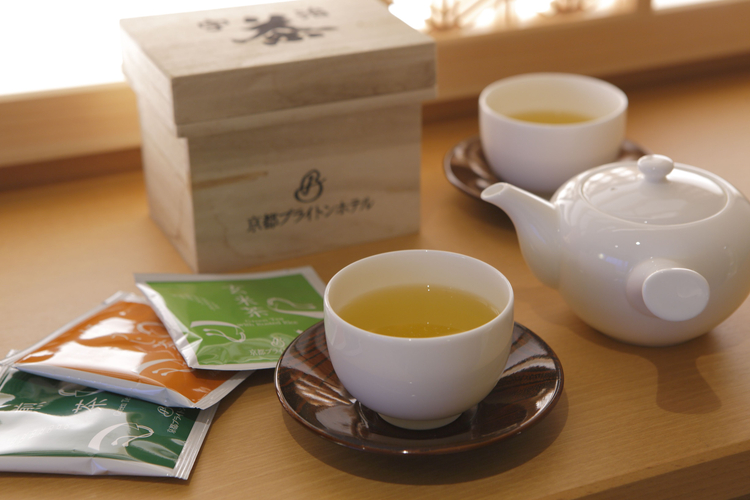 All rooms are equipped with an original Uji tea set developed in collaboration with Gion Tsujiri.
Kyoto Brighton Hotel
https://kyoto.brightonhotels.co.jp/
| | |
| --- | --- |
| Adress | Nakadachiuri, Shinmachi-dori, Kamigyo-ku, Kyoto |
| TEL | 075-441-4411 |
| Check-in | 15:00 |
| Check-out | 12:00 |